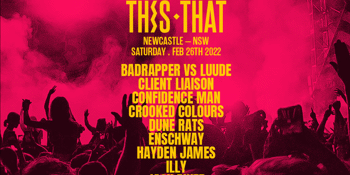 Mothership Events presents
This That Festival (Newcastle)
with special guests
Wickham Park (Newcastle, NSW)
Saturday, 26 February 2022 1:30 pm
This That Festival
Newcastle, NSW 26.02.2022
Returning to its home in Newcastle.
First Release SOLD OUT
Second Release SOLD OUT
Third Release SOLD OUT
Final Release SELLING FAST
Last Release ON SALE SOON
Line-up (alphabetical):
BADRAPPER vs LUUDE
CLIENT LIAISON
CONFIDENCE MAN
CROOKED COLOURS
DUNE RATS
ENSCHWAY
HAYDEN JAMES
ILLY
JACK RIVER
KOTA BANKS
MALLRAT
SAN CISCO
SYCCO
THE CHATS
WAFIA
WHAT SO NOT
+ MORE TBA
-----------
The THIS THAT team had every intention of bringing the festival to Queensland and New South Wales this year. Unfortunately due to COVID, we're moving dates once again.
The new festival dates are:
Newcastle | SATURDAY FEBRUARY 26, 2022 + Sandstone Point | SATURDAY MARCH 5, 2022
Though restrictions are not as intense in Queensland, the team always intended for THIS THAT to be a double weekender across two states with the best acts playing from around the country - and this means acts moving between borders. It's also important to organisers that the experience is as close to the original format as possible for the first time the festival unleashes at Sandstone Point (QLD). By moving the dates to February and March, this new timeline will hopefully allow the safest and best opportunity to deliver the best festival experience for everyone.
What about the lineup? Hold onto those tickets because the Newcastle lineup remains almost identical with the addition of Enschway swapping in with Sippy. The final lineup for Sandstone Point will be announced next Wednesday 29th September.
TT organisers want to thank everyone for sticking with the festival through all of these changes and holding onto tickets to support live music. All tickets purchased for the 2020 and 2021 event dates are automatically valid for 2022. For those who can't join the party in February and March, a two-week refund window via Oztix (
https://forms.oztix.com.au/RefundRequ
...) is open now for Newcastle and the Sandstone Point refund window will open next week. Both THIS THAT Sandstone Point and THIS THAT Newcastle are 95% sold with less than a thousand tickets left for each location so holding onto tickets is the best way to avoid regrets in a few month's time.
Stay safe & get ready.
#TT22